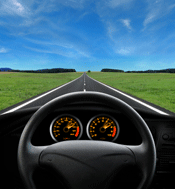 Safety Tip
As a driver, you have to share the road to keep traffic moving safely. You must be predictable and do what other road users expect you to do.
Services
Objective
1. to learn basic skills and safe maneuvering in traffic

2. to bring driving ability to a point where student is reasonably safe, and
should or could pass a government approved road test by completion of in-car training
3. to develop a good driving attitude towards other drivers sharing the roadways

4. to upgrade driving ability of students already having a drivers license

5. to eliminate bad driving habits and systematically instill good ones

6. on completion of the course, to enable students to legally claim a reduced insurance rate with any

Insurance Company by the issuing of a Driver Education Completion Certificate.

Rules
Attendance:

- student must attend all driving times set on a specific schedule

- if a student misses an in-car lesson, for reason of illness, the lesson will be made up at the end

of the course at no extra charge so long as Meyer's Driving School was notified prior to the

lesson. However, if a studen misses a lesson without notification or if student misses more than

one lesson, he or she may be charged the current commercial hourly rate to finish the course.
Beginners Course

A BEGINNERS COURSE (Learners permit holders)

15 HOURS LECTURES

10 HOURS IN CAR TRAINING.

Lectures
- 5 evenings, 4:30 P.M. to 7:30 P.M.

- HELD AT RAPID BINGO HALL 5910-50 STREET LEDUC

WEEK-END CLASSES ARE ALSO AVAILABLE-PLEASE CONTACT THE OFFICE

- bring $200.00 deposit, learners permit, paper and pencil.
In Car Training
- 5 two hour lessons


- scheduled times after lectures are complete.

- balance to be paid on 1st. lesson in the car.

- MUST have learners permit and any corrective lens wear.

If you live within Leduc, Calmar, Millet, or Beaumont the Instructor will pick you up and take you home after each lesson. However, alternate meeting places may be arranged.

TO REGISTER:

Contact Meyer's Driving School Office at 780-986-4861. Our office hours are:

MON, TUE, WED

9:00 A.M. to 3:00 P.M.

* DOES NOT INCLUDE CLASS 5 ROAD TEST.